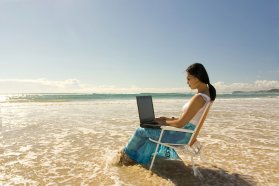 Free Support Ticket System
Keep your customer support organized and SPAM free.
Our support ticket system takes minutes to set up. It will help you keep track of visitor contacts and customer support.
100% free
Nothing to install
Secure support ticket access from any PC
How it works
1) Visitors leave you messages using the contact form in your website
From the visitors' point of view, nothing has changed. They leave you message or comments using your 'Contact us' form. If you don't have a contact form, you can use our form, customized to the appearance of your website.
2) You get an email notifications about the new messages
The support ticket system will send you a notification, which includes a link to the ticket, where you can reply. The ticket page will include all correspondence between you and the visitor (including your replies).
3) Your visitors receive emails with your replies
When you reply, your visitors receive your replies and links to their ticket pages. Subsequent messages will be added to the existing support tickets, so you can see the full support history for each visitor.
There's no log-in for your visitors and no password to remember. The notification messages they receive contain unique links to their support tickets, which only they can access.
---
Want to see an example?
OnTheGoSoft, our software development branch, uses this support ticket system to communicate with visitors and support customers. Send us a message via the contact page to see how it looks like from the visitor's point of view.
Have a look at the HTML source for that page. You'll notice that messages are posted to our server, where they're stored and can be accessed from anywhere.
---
Pricing
This support ticket system is completely free for personal or business use.
We'll be very happy if you took interest in our translation services, including our customer support interpretation, but that's entirely up to you. We're not going to nag you or use your personal information for any marketing purposes.
---
Ready to begin?
Create your account and set up a support ticket system. Its completely free.